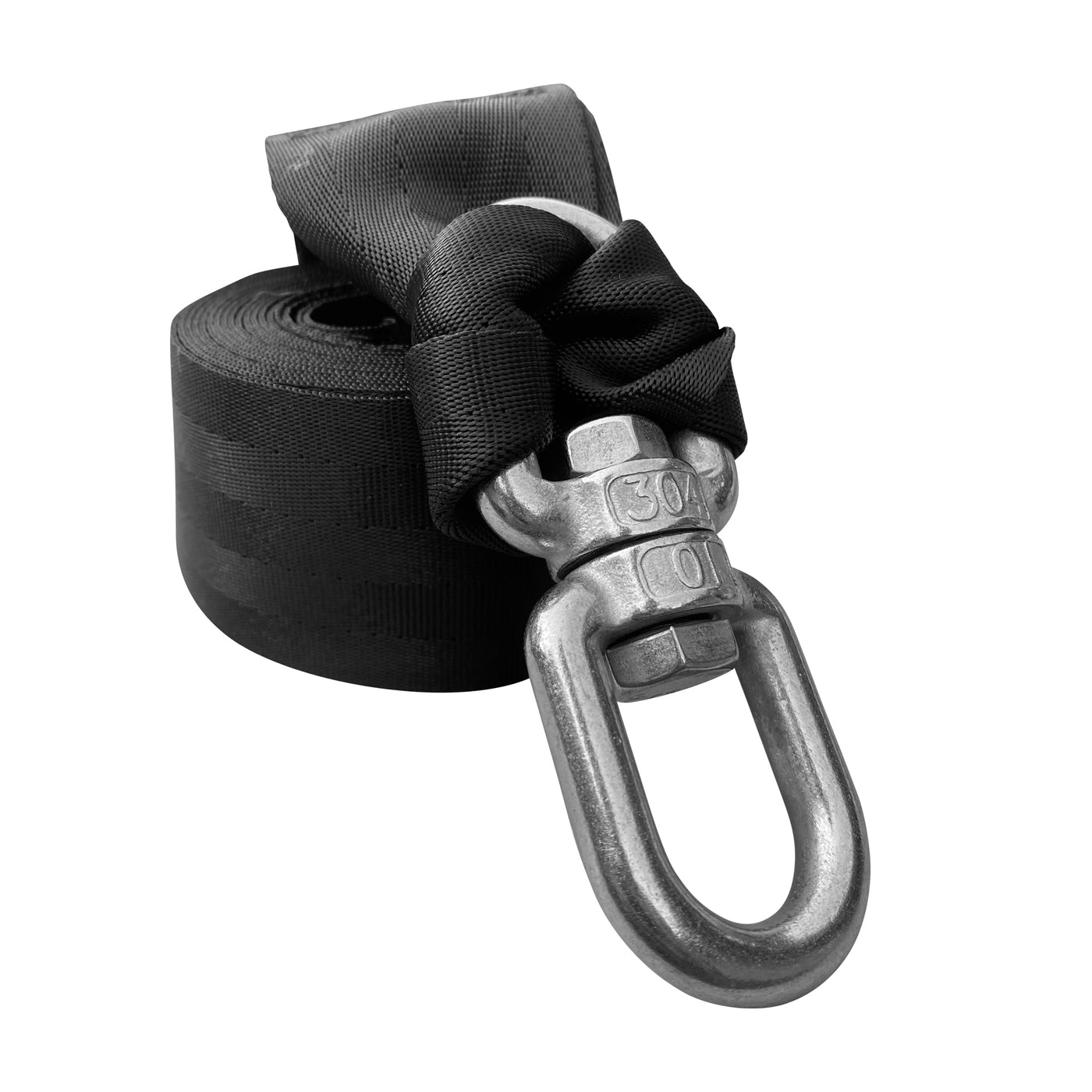 Stainless Steel Spin Kit - Stainless Steel Swing Spinner plus 10ft Tree Strap
$24.99 USD
It's a cinch to take swinging to the next level with the addition of a Stainless Steel Spin Kit. Design to enhance the swinging experience on any single point swing the kit includes a Stainless Steel Swing Spinner pre-fastened on a 10 ft. adjustable 5-panel non-stretch polyester, weather, and UV resistant tree strap. Simply hang the strap and attach the spinner and this kit will have your swing delivering loads of play value for seasons to come.
Item: MM00189

Stainless Steel Swing Spinner Features:

Safety rated to 2000 lb
Allows for 360-degree rotation in a clockwise or counterclockwise direction
Quick, sturdy and durable assembly to any single point hanging swing
Rounded edges create a safe attachment to any carabiner, spring clip, tree strap, rope, or chain
Quality corrosion-resistant 304 stainless steel construction

10' Tree Strap Features:

10 ft. adjustable 5-panel 100% non-stretch polyester webbing that is resistant to abrasion and water
Weather-resistant and contains UV inhibitors that prevent sunlight decay
Designed with doubled-over loop ends to provide safer connection points for swing hardware
At almost 2" wide the strap is detailed with Box-X pattern sewing to ensure uniform stitch length and strength
Safety rated to 800 lb
Prevents abrasion and damage to trees commonly caused by rope
*Constructed ONLY for static loading / Not suitable for dynamic or shock loading
**NOT designed for twisting / Twisting of tree strap can cause excessive wear/fraying and can lead to tearing.
Download the Stainless Steel Spin Kit Manual