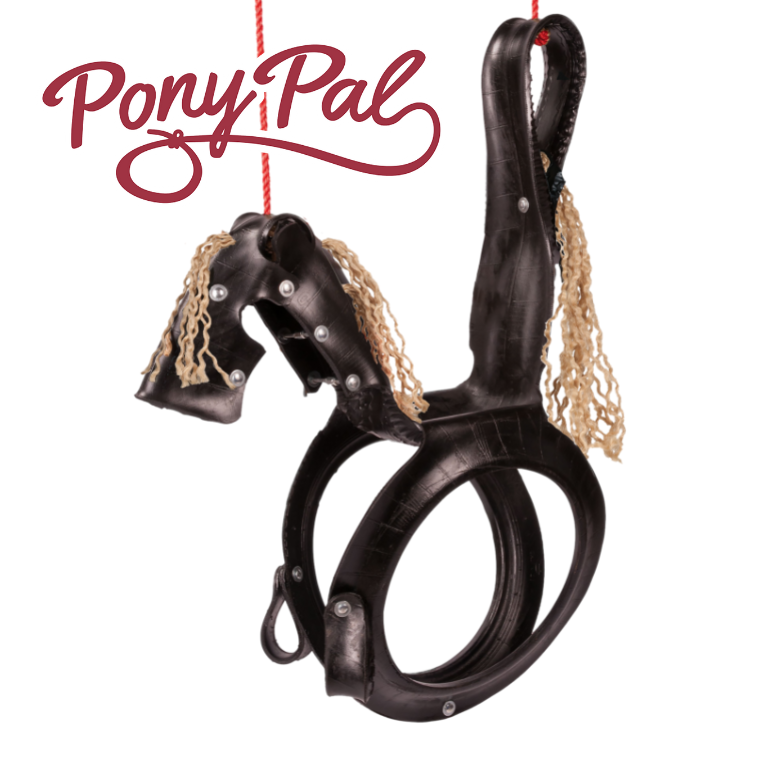 Pony Pal Tire Swing
$79.99 USD
A re-inspired classic sure to capture children's imagination. The Pony Pal Tire Swing is a recycled, repurposed tire made into the cutest pony in the field. The Pony has a rope mane and tail to maintain the traditional tire swing look. Trademarked PVC stabilizer bar and recessed seat make it easy for riders to safely saddle up and swing, twist, and spin. Just like a real pony, this swing can withstand the elements. The durability of a tire combined with a UV resistant rope and the creative detail and design of the always favorite pony means this swing will be around the stable for years.
Item: MM00136
Features:
Safety rated to 175 lb capacity
Rated for ages 3+
Trademark recessed seats only found on our swings
PVC stabilizer bar allows our swings to work easily from a tree limb or swing set
Fully-assembled, ready to hang and ride!
Rust-resistant hardware
No exposed sharp edges
Decay-resistant nylon rope
Product covered by U.S. Copyright Office, VA0001090878
Download the Pony Pal Instruction Manual
CALIFORNIA RESIDENTS |
Proposition 65 WARNING: This product can expose you to chemicals such as Benzo[a]pyrene and Chrysene, which are known to the State of California to cause cancer and birth defects or other reproductive harm. To learn more visit
OEHHA California Office of Environmental Health and Hazard Assessment
.