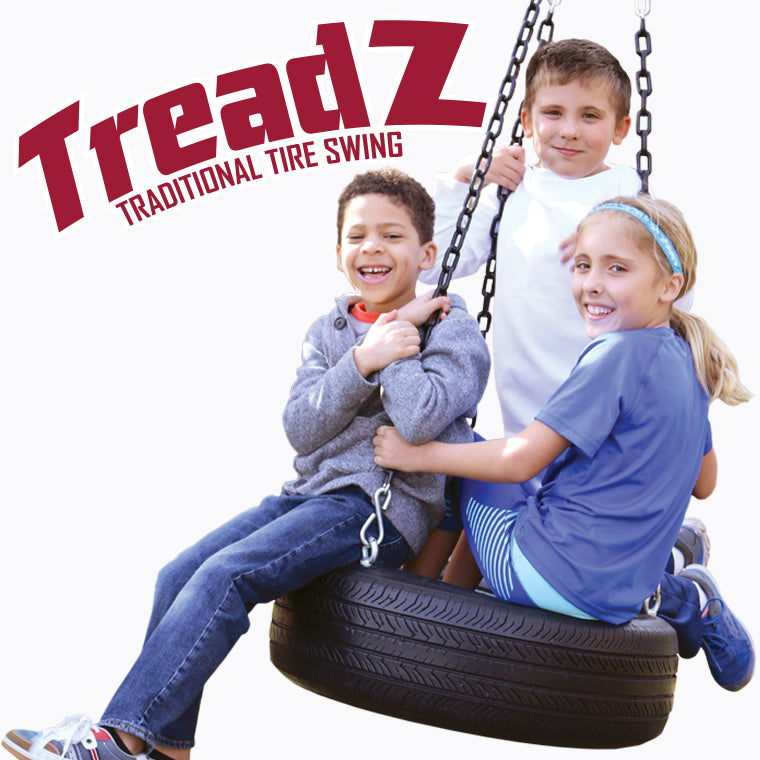 Treadz Traditional Tire Swing®
$119.99 USD
Swing and Spin. Spin and Swing. You Decide! The Treadz Traditional Tire Swing adds a modern twist to classic tire-swing fun and is an instant hit in any backyard or play space. A 360° swivel spinner allows fast, smooth spinning and swinging that gives kids, ages 3+, the ride of their life. Three 54" chains allow up to three kids to enjoy the swing at once, while strategically placed PVC coating gives them a pinch-free, secure grip.

Item: MM00140
Features:
Safety rated to 400 lb capacity
Rated for ages 3+
Rust-resistant hardware
Includes swivel/spinner 360° swivel spinner provides fast, smooth spinning and swinging
Three chains support up to three kids at once
Partial PVC coated chains offer a pinch-free, secure grip
Tire is a recycled (nylon threaded) rubber
Dimension estimates: Inside diameter 20 in / Outside diameter 26 in / Height 8 in
Download the Treadz Traditional Tire Swing Instruction Manual
CALIFORNIA RESIDENTS |
Proposition 65 WARNING: This product can expose you to chemicals such as Benzo[a]pyrene and Chrysene, which are known to the State of California to cause cancer and birth defects or other reproductive harm. To learn more visit
OEHHA California Office of Environmental Health and Hazard Assessment
.